Mélanie
Born and raised in Montreal, Canada. Melanie moved to the island of Kauai in 2007, living her dreams. She has been called a sensei, a master & the best ever! She gives grace to be a channel for healing and joy. Melanie takes pleasure in teaching the knowledge that comes through her with fun, explorations and in a safe environment. Founder of Meyobay Massage Therapy, Melanie Lemay is an active member of ABMP (Associated Bodywork & Massage Professionals), DCCA (Department of Commerce & Consumer Affairs) , Hawaii License MAT #11697. She earned her massage therapy certification in 2003 from the renowned Guijek Institut, in Montreal, Canada. She is licensed to practice both in Quebec and Hawaii. Melanie studied Thai Massage at the Sunshine Massage School in Chiang Mai, Thailand in 2011. In addition, Melanie learned the Lomi Lomi technique on the island of Kauai in 2007. Over the past decade Mélanie has come to develop her own technique called Meyobay Massage. Furthermore to her private practice & teaching, Melanie is a guest instructor for the Pacific Awareness Institute on Kauai. Melanie is fluent in English, French and Spanish. She is known for drawing upon a wide range of massage modalities (including but not limited to swedish, sport, esalen, shiatsu, lomi lomi, cranio sacral, sound/vibration healing therapy & thai massage) in order to create a unique bodywork experience for each client, using her intuition to provide a holistic experience. In addition to her practice, Melanie volunteers with Hospice, taking care of people with rites of passage. Grief counseling and bereavement are also a service that Melanie provides with love and compassion. Melanie considers massage therapy as healing poetry in motion, getting inspired by music of the world.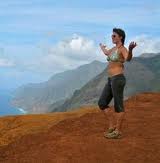 Mélanie writes:
I am: Walking the talk. Getting inspired by the world. I don't suffer when I see injustice or imbalance - I make a difference. I play in life. I support health. I promote joy, harmony & happiness! When you don't find me giving or teaching massage, you'll find me stand up paddling, dancing, eating organic spicy food, practicing yoga, indulging in dark chocolate, discovering new friends and enjoying old ones, jumping off cliffs, having breakthroughs (!!!!), running in nature, life coaching, using Q-tips, admiring ink (tattoos), making kale salad, watching transformational movies (and wanting everyone to watch them too!), organizing events, and traveling the globe. You can find me on CouchSurfing.org.
Meyobay Massage
Founded by Melanie Lemay, Meyobay is a unique massage technique that combines different healing methods inlcuding Lomi Lomi, Thai, Esalen, Swedish, sound and vibration healing therapy, reflexology and much more. Meyobay is a beautiful dance with a nice flow and feels good for the therapist too. Our name, Meyobay, is derived from the word Myology (muscular system) and stands for our dedication to the perfect fusion of art, energy and science, resulting in a delicious intuitive massage tailored to your specific needs, while still relying upon the most current and advanced body therapy methods.
This practice is servicing the island of Kauai and many other places in the world. We are an environmentally friendly and holistic business, using only the purest grade natural and organic products.
Benefits of massage
Experts estimate that upwards of ninety percent of disease is stress-related. And perhaps nothing ages us faster, internally and externally, than high stress. Massage is an effective tool for managing this stress, which translates into:
Decreased anxiety.
Enhanced sleep quality.
Greater energy.
Improved concentration.
Increased circulation.
Reduced fatigue.